Is it fog or smog? This is the question prevalent these days. North Indians especially Delhites are witnessing toxic levels of air pollution since Diwali. It is dangerous for the senior citizens and little children to step outdoors these days. But what are the reasons behind the rapid rise in air pollution?
REASONS FOR SOARING LEVELS OF AIR POLLUTION

:
Delhi shares its border with the states of Haryana and Uttar Pradesh. Stubble burning by the farmers of Punjab, Haryana and Uttar Pradesh can be blamed for Delhi pollution. The wind carries all the pollutants and dust particles, which have got locked in the air. It is important to understand why farmers carry out this exercise.
WHY DO FARMERS BURN CROP RESIDUE IN PUNJAB AND HARYANA?
Farmers across Punjab and Haryana use mechanical harvesters that skim from the top and leave 80% of the paddy plant on the field. The paddy straw is of no use to the farmers, unlike the wheat straw which can be used as animal fodder. The paddy straw has high silica content that animals can't digest. Since farmers need to sow wheat within a fortnight of harvesting paddy, they burn the straw in order to save time, labour and money. They don't have any alternatives.
Despite Supreme Court's ban on the sale of firecrackers in Delhi and Delhi NCR, fireworks were a common sight this festive season. They have contributed much to the air as well as noise pollution.
Large-scale construction in Delhi NCR is another culprit that is increasing levels of dust and pollution in the air. Considering the dipping air quality, National Green Tribunal banned construction activities till Nov 14.
Vehicle emissions are another source of fossil fuel emissions and thus, air pollution. The main pollutants emitted from the automobiles are hydrocarbons, lead/benzene, carbon monoxide, sulphur dioxide, nitrogen dioxide and particulate matter. The main cause of vehicular pollution is the rapidly growing number of vehicles. The other factors of vehicular pollution in the urban areas are old vehicles, inadequate maintenance, congested traffic, poor road condition and old automotive technologies and poor traffic management system and weak public transport system.
During winters, dust particles and pollutants in the air become stagnant. Due to stagnant winds, these pollutants get locked in the air and affect weather conditions, resulting in smog.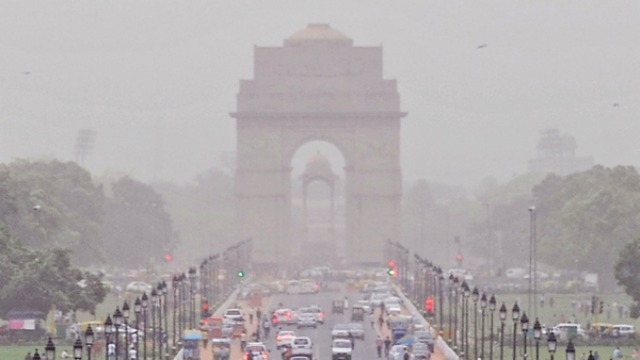 EFFECTS:
Air containing sulphur dioxide and nitrogen oxide causes acid rain, which in turn pollutes aquatic resources and soils.
Air pollution is responsible for a host of other problems including ozone layer depletion, smog, etc.
Long-term health effects can include chronic respiratory diseases, lung cancer, heart disease, and even damage to the brain, nerves, liver, or kidneys.
Some causes of air pollution are beyond your control. Other sources can be managed through changes in your lifestyle:
Do carpooling
Use public transport whenever possible.
Avoid smoking. Do not burn garbage.
Use CNG.
FOLLOW THESE STEPS DURING THIS HOUR OF AIR CRISIS:
Don't step out or indulge in outdoor activities during early morning and evening hours.
Try to stay indoors. Go out when it's bright and sunny.
Don't step out if you have breathing difficulty.
Keep children indoors as much as possible.
Drink adequate amount of water as it helps in flushing toxins from the body.
Avoid strenuous activity, because after that you tend to breathe more heavily and faster and may inhale minute pollutants.
Eat fruits that are loaded with vitamin C, magnesium and omega fatty acids. Eat tulsi, ginger, lemon, cashews and walnuts. These fruits are rich in antioxidants and anti-inflammatory compounds and help in boosting immunity.
HENCE,
Stop air pollution if you want clean air to breathe. Be the part of the solution, not the part of the pollution. Don't let our future go up in smog!